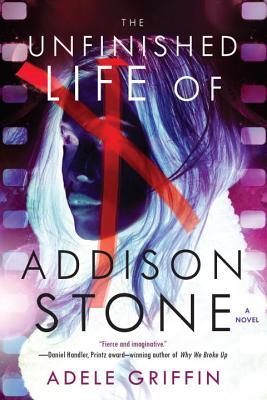 Reviewed for this blog by Andrea, Windsor Library
Addison Stone is a young New York Art Scene wunderkind who is found dead after falling while installing a billboard art piece. She was known for public stunts, intimate portraits, and her much-publicized relationships.
This title is engrossing and (yes I KNOW it is a writing teacher's cardinal sin not to use this word, but) interesting. I was interested in Addison's story. I felt sympathetic toward her and her struggles –  mental, physical, social, professional.  The frame of the story is Griffin's attempt to find the answers in the mystery of Stone's death (Stone is fictional, which sent me on an Internet goose chase, but it adds depth to the story, and a reason for the design). The book starts with an article about her death, then unfolds through interview clips from those who knew and loved her, interspersed with articles, pictures, works of art, and more to flesh out the story. Griffin does a great job giving each character who talks to her about Addison a voice – the ex-boyfriends, family members, and friends all gave insight to the story in their own way. There's also a heavy theme of mental disorder (Addison is diagnosed with schizophrenia) that I thought was handled well (having no personal experience with the disorder).
Addison's story paints a vivid picture of talent, youth, isolation, genius, and betrayal. The voices and their characters, plus a well thought out story line made for a complete reading experience. Is it an award contender? While reading, I thought it was a great choice for teens who might not identify as big readers: it's flashy with its full-color (and sometimes full-page) images, it's quick (some of the character snippets are less than a page long), and it's dramatic. Its character development happens almost all off the page and it's very contained; the whole plot is told in retrospect. It certainly wouldn't be a traditional choice, but I'd be happily surprised if it were recognized come the end of the month.